February 21, 2012
A responsible attitude after a ferry accident in Balearic Islands
© OCEANA / Carlos Suárez. Two nudibranchs (Cratena peregrina). Gastabi Island, Es Freus Marine Reserve
Very often here at Oceana, we are faced with the task of making recommendations when ship accidents happen and we always demand that companies immediately remove pollutants than can cause an environmental disaster. Today none of this will be necessary, because the shipping company that owns "Maverick Two", the ferry that ran aground last week on the island of Sa Torreta, in Es Freus (Formentera, Balearic Islands), has finished emptying and cleaning up the ship's fuel tank.
The Es Freus marine reserve is an area of ecological importance that Oceana has had the opportunity to study during one of our expeditions. In addition to boasting a variety of bottoms (sand, stone and caves), the area also has Posidonia oceanica (seagrass) meadows. These protected aquatic plants are home to fish such as barracudas or groupers and many other interesting species like moray eels, shrimp, sponges and nudibranchs.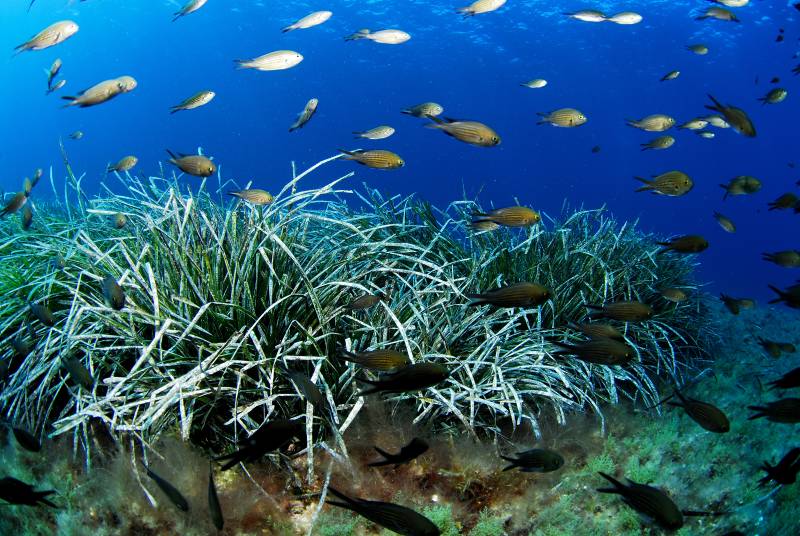 Although today's news story has a happy ending, we must not forget that the waters around the Balearic Islands are vulnerable to the large amount of human activity that takes place, like fishing, tourism and oil pollution. It is important for this area to be monitored and looked after, so that it can be enjoyed in the coming years and by future generations.