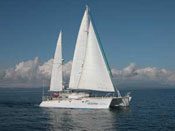 The Ranger is here! She arrived yesterday. Everything has been crazy since — people running around buying supplies, fixing engines, finding old friends — and we're leaving for Cocos tonight. I'm more excited than I can write.
We (Xavier, myself, and some of the MarViva crew) went out to meet the Ranger yesterday morning in one of MarViva's boats. We were up at 5:30 and on the water by 6:00, coasting towards the Golfo Dulce through a morning fog. For fifteen minutes or so we had two dolphin escorts riding under our bow.
We met the Ranger near the mouth of the gulf. What a beautiful boat! She appeared on the horizon; we passed the binoculars back and forth until there was no doubt — her white pontoons were bright against the water, and the Oceana logo was clear against the white. The crew were all on deck, grinning and waving, taking pictures of us taking pictures of them. When we pulled the MarViva launch alongside the larger boat there was a happy chaos of hugs and introductions.
I knew what the Ranger looked like — I'd seen pictures — but seeing pictures is nothing like seeing this boat in the ocean. She is so very light. It looks like she sits on the water, not in it, and she flies over it like a skater over ice. The two pontoons just barely cut the water. She is elegant. She's gorgeous. I don't know all that much about boats but I am completely enamored.
And the crew! The group is an eclectic mix of professional biologists, divers, videographers, and professional sailors. They are all wonderful. They came ashore exhausted but excited, gregarious, welcoming to us new folk and redolent of weeks at sea. The always generous MarViva staff offered showers and laundry.
That was yesterday. I'm writing on Wednesday morning. We are packing today, testing communications technology, restocking the boat and generally preparing for a week-long trip to Cocos. Getting there is a two-night, one-day (~ 36 hours) proposition; the sea, apparently, is usually rough. We'll be accompanied by one of the MarViva fleet. I'm sure that all this afternoon we will be zipping around in Golfito making last-minute arrangements, and then at 7 pm, in the early dusk, we'll be off.