May 26, 2005
The Ranger and protecting the waters of Azores. Thursday, May 26th, 2005
We are in Azores waters. We hope to arrive tomorrow ad midday at Horta, a port in Faial Island. The second part of the expedition is, in theory, the most critical step from the navigation standpoint, and it appears that we are going to complete it successfully. The Ranger has demonstrated to be a sturdy, safe ship, and life onboard has been perfectly endurable, despite discomforts brought about by bad weather throughout these two weeks of isolation from the world, since we left Bermudas. There was no incident at all among the twelve crew members; on the contrary, at moments when we experienced the worse climate conditions, laugher and music were heard from the messroom. The crew has shown a good sense of humor and willingness to work, which is a lot to say.
This crew needs a shower (or two) and an urgent visit to the town's tavern. In that order.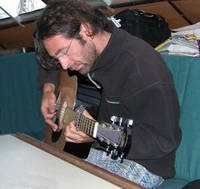 When we arrive in Azores, we will have our first encounter with Europe since we began our expedition in California, back in January. This archipelago holds crucial importance for Oceana campaigns. Since historical times, Azores has not allowed bottom trawling activities within 200 miles around their islands. When Portugal joined the European Union, a waiting period was established, which ended in 2004, after whicha and due to specific EU treaty conditions, should open a process of allowing fishing boats from any European country to fish in their waters. Of course! Among other expectant fisheries, the Spanish trawlers were keeping close watch. The regional government of Azores filed a class action suit at the European Justice Tribunal, against the European Commission, to try to stop what would represent a barbaric ecological disaster and social injustice against generations of artisanal fishermen from the islands, who, for decades preserved their seas by using artisanal, sustainable fishing techniques. Oceana, jointly with other organizartions like WWF, Seas at Risk and Greenpeace went in support of the government of Azores, in our position as co-petitioners in the judicial process.
This issue is not yet resolved in court, but the European Commission has shown a positive sign by not allocating capture quotas for trawlers in 2004 and 2005 for this archipelago, as well as for the Canaries and Madeira. It is a positive provisional measure, but we advocate for it to become definitive.
To remember this story, today Oceana sent out a press release announcing the arrival of the Ranger in Azores and reiterating our organization's support to the position held by the regional government in regards to this issue.
In addition to carrying out our regular dives while staying in the archipelago to gather graphic evidence of the marine biodiversity of this area, and the threats they are under, our crew will make time to keep meetings with scientist, politicians and journalists and continue discussions to achieve the definitive protection of the waters in Azores against bottom trawling.
These will be the Ranger's first miles in Europe.