The night watches are peaceful; however, today we saw more boats around us than ever, most of them much bigger than the Ranger. A cruise ship passed close by us at full speed and we could clearly see all the deck lights and its passengers dancing in the disco; it may have benn heading for Fort Lauderdale ( Florida ) just like us.
The cruise ship industry has experienced huge growth in the last few years. Today, more than 2,000,000 Europeans choose to spend their holidays on a cruise shhip. More than fifty companies control around 300 cruise ships, which carry millions of passengers from one side of the planet to the other. Normally, their destinations are the nost beautiful and, in many cases, the most vulnerable places in the world.
These huge ships can carry more than 5,000 passengers, which effectively makes them floating towns, with all the attendant leisure activities ( swimming pools, theatres, discos, etc. ). All this gives rise to all kinds of waste, which is occasionally jettisoned into the sea. In May 2004, Royal Caribbean pledged to improve its fleets and introduce advanced wastewater treatment technology on all its ships, which means that every vessel will comply with strict quality standards. This commitment will help to protect the oceans from pollution.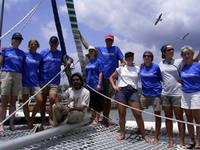 At seven in the morning, we entered the Towned H. Marina. The Ranger catamaran will be spending a couple of weeks here for minor repairs to prepare for the Atlantic crossing on the next part of its voyage.
Producing these diaries is made possible thanks to the collaboration of everyone on the boat. As you've been able to see, on some days the diary relates incidents that have been experienced simultaneously by the different members of the crew. This has been made possible thanks to conversations with all our on-board colleagues, the video and photo sessions, and referring to the logbooks. Despite the communications difficulties during sailing days, as soon as we manage to get the information through to Madrid it is posted on the website so you can follor us more closely.
It's time to go. Thank you for staying with us. We'll be back in a few days.