February 6, 2018
Portugal as an entry point for high-risk fishing products destined for Spain
*** Local Caption *** Head of a swordfish (Xiphias gladius) in the fish market of Porto Santo Stefano, Italy. Oceana MarViva 2009 BFT. June 2009. Cabeza de un pez espada (Xiphias gladius) en la lonja de Porto Santo Stefano, Italia. Oceana MarViva 2009 BFT. Junio 2009 *** Local Caption *** Head of a swordfish (Xiphias gladius) in the fish market of Porto Santo Stefano, Italy. Oceana MarViva 2009 BFT. June 2009. Cabeza de un pez espada (Xiphias gladius) en la lonja de Porto Santo Stefano, Italia. Oceana MarViva 2009 BFT. Junio 2009
The main objective of the EU's Regulation to end IUU (illegal, unreported and unregulated) fishing is to prevent, deter and eliminate trade of fisheries products originating from IUU fishing activity and entering every year our EU markets. The IUU Regulation is the most ambitious law to fight IUU fishing globally and this year we celebrate the 10th anniversary since its adoption.
The new report published today by environmental NGOs (EJF, Oceana, Pew and WWF) looks into fluctuations in flows of seafood coming from third countries with a high risk of links to IUU fishing (namely carded countries) and entering the EU.
The report concludes that weaknesses in implementation of import controls in some EU Member States may have allowed suspicious or illegally caught seafood to enter the EU market.
One of the cases identified through the analysis is Portugal.
The report found that imports of frozen swordfish and shark increased in Portugal following the yellow-carding of several third countries such as Belize, Korea or Panama. These increases coincided with declines in imports of the same products reported by Spain. Due to differences in rigour of import controls between the two countries, Portugal may have been used as an entry point for products destined for Spain.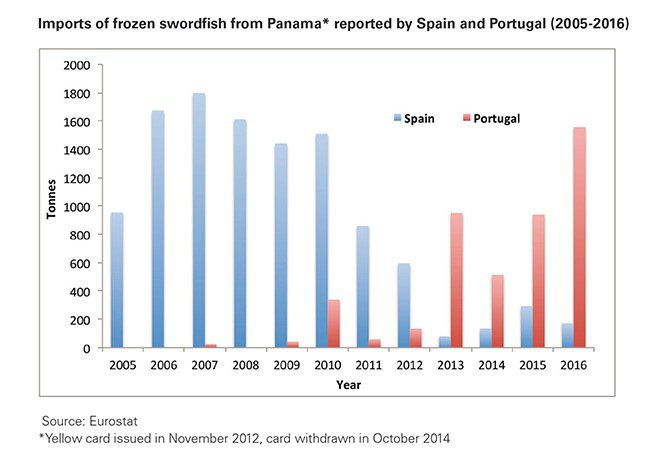 In order for the IUU Regulation to be successful in the EU, it is imperative that all Member States implement robust and effective import controls at their borders. If just one country becomes an easy access route for high risk products, consumers from any European member state may be unknowingly buying products that could originate from an illegal source.