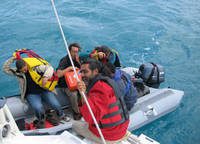 7:00 a.m. The Ranger remains anchored at the bay of Saint George. This first day in Bermuda is dark; rain and wind were pounding hard. Nuño, Carlos and Ricardo meet to analyze the situation and organize the work for the members of the expedition. The fact we were anchored instead of docked by the port further complicates plans, because we depend on auxiliary boats to go ashore. One thing is clear: due to bad weather, today we are not diving.
11:00 a.m. We wait impatiently for the weather to improve in the next few days, because we have planned a series of dives to document corals and phanerogams, sea horses and anyone of the numerous ships that were sunken centuries ago near these coasts. That is the case of the Spanish passenger ship "Cristobal Colon" that sank at the beginning of last century. In order to accomplish these tasks, it is important that the members of this expedition are able to move about freely through this island. But we soon found out with a dash of desperation that it is impossible to rent a car in Bermuda. Car rental companies simply do not exist here. Most residents of Bermuda-about 70.000 people live in the island- use buses, taxis and scooters as transportation modes.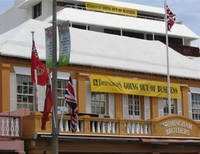 12:15 a.m. Bus number 1 takes three quarters of an hour to get to Hamilton, a municipality filled with banks and shops that sell clothing, perfumes and brand name merchandising, in the midst of the week- end rush. We are lucky, because at that time, the clouds began to clear and the sun struggled to come through. The people of Bermuda live from tourism, international business and finances. It is said that the first person to see the island was a Spanish captain named Juan de Bermudez, in 1505. But it was not until a century later, after the English vessel "Sea Venture" shipwrecked in 1609, when the English began colonization of the island.
Bermuda has been a pioneer in environmental protection issues. Bermuda residents were possibly the first to protect marine turtles already in the 18th century. Currently, they have nature reserves and protected areas, but they also have some ecological problems to resolve: they are starting to implement farms designed to recuperate clams, crustaceans and other species that were depleted by commercial overexploitation.