My first nocturnal guard duty has provided for a perfect lesson taught by Bibi, though young, she is a highly qualified sailor, and with her fresh personality and serenity, she has instantly gained my trust. Throughout my three- hour guard dury shift, Bibi has taught me how to keep watch for any anomaly that may occur along the route, check for wind speed, or keep an eye on the horizon for some ship. She also taught me to manage the helm, maintaining the ship's course as marked, at 104 degrees.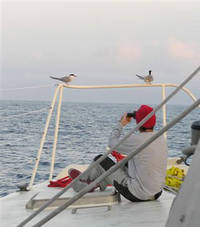 During our guard we were visited by some bottlenose dolphins that kept us company for 15 minutes. Thanks to the bio-luminescence of the sea, tonight we were able to clearly observe the lighted trail they leave behind as they move, and of course, I was surprised by the speed and swiftness of their shift. It has been a truly emotional time for me, keep in mind that I come from a arid place, and I am not accustomed to this wonders. Standing by the larboard, listening to the sound made by the golfinhos-dolphin in Portuguese-swimming and leaping about in the dark and contemplating the luminescence they leave behind has been a wonderful experience.
The nocturnal luminescence observed in all seas is produced by protozoa called dinoflagellate, part of the plankton family. When the water is agitated, they move about and this causes to illuminate, adding a touch of magic to the dark waters during the night.
I have been onboard the Ranger for two days and I must recognize that even though I came armed with all sorts of known anti nausea medication, it is only thanks to some drops Xose has given me (I will not mention the name, not to advertise for anyone) that nausea has not taken over me, although it has made attempts. The movement of a catamaran is completely different from that of mono-hull ships. Although its swinging movement is much softer, some crew members have referred to it as being similar to a pea on a frying pan.
During dinner, a pair of common terns (sterna hirundo) came to visit and although the entire crew was sitting around the table dining on some tasty lentils, most run out, armed with cameras, to take pictures of these birds. They did not scare off; they even stayed around sufficient time to be photographed by our nature loving cook, Indi, who has extrasensory abilities to frighten off little animals that come near us. The terns are also known as swallows of the sea. They are svelte birds, their wings are long and narrow and the tail is divided. Our proximity to the Azores archipelago explains this visitation, they are coastal birds and not likely to be found in the high seas.