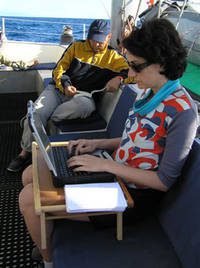 During last night guard duty, the only new development was the proximity of a merchant ship that came close from the port side of the Ranger. Their potent headlights caught us by surprise, and it made us think it was a fishing boat; but they turned the lights off, and kept only the normal lights on. The ship kept coming closer and Bibi identified it as a merchant ship, so it was appropriate to establish radio communication with them to confirm our position.
" Ship in position 35 degrees 17N and 26 degrees W, this is the Ranger. Do you copy? Over ".
" Ranger, Ranger, ship in position. I copy. Over. " They answered alter a brief wait. Whew!
" We are at 2 degrees from your starboard " Do you see us? Over
" Yes, I see you, no problem "
" Ok, thank you and have a good watch. Stand by channel 16 "
They had seen us, so our possible concern was gone.
It is odd, but the time during nocturnal guard duty goes by faster than during day time duty, even considering the many people around and improved visibility. During the three hours of our morning guard today, we had one moment of excitement when, as I was at the helm, the wind speed increased until the ship reached a velocity of 11 knots. The force of the wind was noticeable and we could see how it knocked on the sails, so our captain, Nuño, did not hesitate a moment in changing the bigger sail from the sailmast for the staysail, to keep them from breaking and the wind speed calmed down and settled, averaging at 9 knots, a much more convenient speed for this ship. Of couse, in the course of the day, we surpassed the previous record of the Ranger: 210 miles covered!!
At the moment, we are not sighting a large variety of species. The only species we see repeatedly are the Jelly fish: Portuguese man-of-war (Physalia physalis) that pass around us like a floating menace. Of course, the lovely dolphins have come to play around the prow of our ship, about three times today.
Everyone onboard is excited with the possiblity to see a sperm whale. This animal has become our fixation during the crossing from the Azores to Lagos.
We still have another week of navigation without coming ashore and the feeling onboard is relaxed. Books pass from hand to hand, Jose entertains us playing bossanova on guitar, I write journal entries and we all worry about Mar's ear condition, wishing he recuperates by diving time at the Gorringe Ridge.