Bet you never thought a sea slug could ever be stunning. This photo of a nudibranch (or sea slug) was taken during one of our expeditions in the Mediterranean off the coast of Alicante, Spain.
Every time we send our photographers into the depths, we are amazed at the incredible diversity of marine organisms they are able to capture with their lenses. That is why we work so hard to push for Marine Protected Areas – so we can help preserve the rich biodiversity of Europe's waters.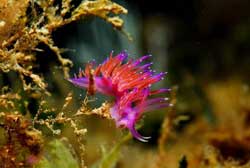 Despite being considered one of the planet's most important areas for marine biodiversity, only 4% of the Mediterranean is protected. So this week we unveiled Oceana MedNet – the first proposal for a comprehensive network of MPAs in the Mediterranean covering a wide variety of specific and ecologically important habitats, including the high seas.
By adding our recommendations to existing MPAs, 12% of the Mediterranean would be protected, exceeding the minimum established by the United Nations Convention on Biological Diversity (CBD).
For more information on Oceana MedNet click here.
For more incredible pictures of sea slugs click here.