Finally we are able to leave Isla Mujeres. We head to Florida with the hope of stopping along the way at least once to dive.
One of the things that has surprised me the most on this trip is that, contrary to what I had thought, in this area of the planet the ocean is like an enormous blue desert.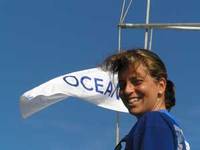 On the longest crossings we barely see any birds or fish, only cruise ships and container ships. Probably the great depths in this area, and the oceanographic conditions, do not allow for rich marine life near the surface in the Honduran, Belizean and Mexican Caribbean.
A small tern accompanies us, winging across our wake; little by little it reaches our prow where it pauses for a few minutes to rest. It takes off and disappears into the horizon.
In the afternoon we have the good luck to catch a common bonito (Sarda sarda). We are glad to know that tonight we'll be eating fresh fish. We clean it and prepare it with onions. At this point, we may have filled our large fish quota for the next two weeks. Because of the high levels of mercury in tuna and similar species all over the world, health authorities advise against consuming these fish more than once or twice a month. Oceana has launched a campaign to raise awareness of this problem, to call for mandatory labeling of these fish as dangerous, and to put an end to mercury releases by chlorine plants (details about the campaign are on our website).
March 30: At dawn we can see in the distance a line that sketches, through the morning fog, Cuba's silhouette. The night has been calm and the morning begins the same. This allows us to observe from the Ranger's deck that between the floating sargassum we can see the small fish that take refuge underneath. Others blend in, like the Sargassum pipefish (Syngnathus pelagicus).
We have passed through some places where there were Portugese man-of-war. This jellyfish, which looks like a medusa, has a painful sting with its long tentacles that can, on occasion, be fatal.
Ricardo Aguilar shouts "whale!!!" We all follow his finger toward where, for a few seconds, he saw the dorsal fin of a whale. It seems to have been a sperm whale (Physeter macrocephalus), but because of the rapidity with which it dove, after showing its tail, and its distance from the boat we couldn't be sure. We wait for more than forty minutes watching every centimeter of ocean around us. It doesn't reappear.
During the sunset, with this almost impossible light of oranges and blues, a pod of Atlantic spotted dolphins appear playing around the Ranger's prow – they jump, zigzag, dive, rocket back to the surface, show off their best pirouettes for minutes on end; then, as the light fades and the day ends, they offer their goodbye in a dance that looks choreographed and with agile and clean movement are lost in the darkness that has by now fallen over the sea.