February 3, 2011
Kung Hei Fat Choi – but hold the shark fin soup, please!
Today millions of people around the world are celebrating the Chinese New Year and ushering in the Year of the Rabbit with family, friends, food and conversation.
Unfortunately, shark fin soup is a featured dish at many of these meals – a traditional dish that has had a devastating effect on shark populations worldwide that cannot keep up with the rising demand for their fins. Because sharks have slow growth and reproductive rates, they are particularly vulnerable to overfishing – and the growing demand for shark fins has fuelled unsustainable fishing for many shark species worldwide.
Oceana has been hard at work to protect sharks in waters around the world. Here in Europe, we are pushing for formal protection for threatened shark species and strong, science-based management plans and measures for exploited sharks. We're also working to eradicate shark finning, and to enforce the landing of sharks with their fins still attached.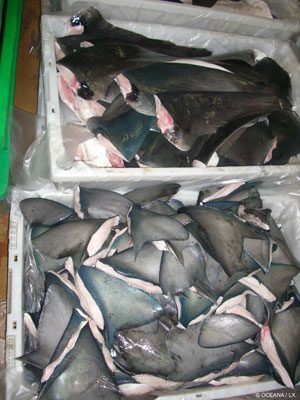 The truth is, shark finning is wasteful – fins are removed from live sharks that are then dumped back into the water to die. Finning also goes against the FAO's International Plan of Action for the Conservation and Management of Sharks (IPOA-Sharks), and the European Community Action Plan for the Conservation and Management of Sharks. Shark finning is officially banned under European law, but there are many loopholes in the existing regulations that allow for the lucrative effort to persist.
We've got our work laid out for us, but if you want to get involved, the European Commission is giving citizens, in addition to organizations and public authorities, the right to submit their contributions to a consultation request they have made for ideas on how to ensure the finning regulation is fully enforced.
And please – don't order shark fin soup today (or ever for that matter) – there are tons of other delicious dishes to sample!
Click here to contribute: http://ec.europa.eu/fisheries/partners/consultations/shark_finning_ban/index_en.htm
Learn more about Shark Finning (https://europe.oceana.org/en/eu/our-work/marine-wildlife/sharks/learn-more/shark-finning) and Sharks
What are your thoughts on finning?