February 6, 2018
Increased imports of seafood products to Italy following the yellow-carding of third-countries
*** Local Caption *** Swordfish carcass in a stand at the quay of the port of Marseille, France. Catamaran Oceana Ranger Mediterranean Expedition. May 2007. Tronco de pez espada en un puesto de venta de pescado en el muelle del puerto de Marsella, Francia. Expedición por el Mediterráneo del catamarán Oceana Ranger. Mayo 2007 *** Local Caption *** Swordfish carcass in a stand at the quay of the port of Marseille, France. Catamaran Oceana Ranger Mediterranean Expedition. May 2007. Tronco de pez espada en un puesto de venta de pescado en el muelle del puerto de Marsella, Francia. Expedición por el Mediterráneo del catamarán Oceana Ranger. Mayo 2007
The main objective of the EU Regulation to end IUU (illegal, unreported and unregulated) fishing is to prevent, deter and eliminate trade of fisheries products originating from IUU fishing activity and stop their access to the EU markets. The IUU Regulation is the most ambitious law to fight IUU fishing globally and this year we celebrate the 10th anniversary since its adoption.
The new report published today by environmental NGOs (EJF, Oceana, Pew and WWF) looks into fluctuations and anomalies in flows of seafood coming from third countries with potential links to IUU fishing (namely yellow or red carded countries) and entering the EU. Non-EU countries are 'carded' by the EU when they fail to fight IUU fishing. A yellow card acts as a warning for the country, whereas red-carding means that products are prohibited from entering the EU market.
The report concludes that weaknesses in implementation of import controls in some EU Member States may have allowed suspicious or illegally caught seafood to enter the EU market.
One such example is Italy.
1. The report reveals that imports to Italy increased following the yellow carding of several third countries (e.g. Sri Lanka, Ghana and Taiwan, PoC), particularly for high value products prone to illegal fishing, such as swordfish and tuna. Sudden increases in trade of fish products to Italy were seen for 8 out of the 13 yellow-carded countries authorised to export seafood to the EU during the period 2005-2016, a trend that continued throughout the period under investigation.
Imports of frozen yellowfin tuna from Ghana* reported by Italy (2005-2016)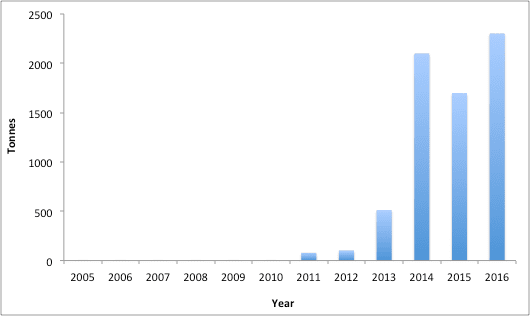 Source: Eurostat *Yellow card issued in November 2013, card withdrawn in October 2015
Imports of frozen swordfish from Taiwan, PoC* reported by Italy
Source: Eurostat *Yellow card issued in October 2015, not withdrawn yet (as of January 2018)
2. In some cases, increased import volumes coincided with increased intra-EU trade from Italy to other EU Member States. One explanation is that, due to less stringent import controls under the IUU Regulation, Italy was seen as an entry point for seafood destined for other EU countries. This demonstrates the need for all Member States to introduce robust and effective import controls at their borders. If just one country becomes an easy access route for high-risk products, consumers from any European Member State may be unknowingly buying products originating from a potentially illegal source.