A new day of high risk diving; the dives reach depths below 40 meters. The closest hyperbaric chamber is in Lisbon, 500 km away. Conventional helicopters will not be able to reach this place and make it back to land.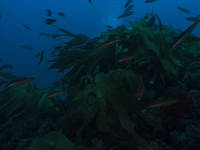 All essential safety measures are taken; there is nothing to be concerned about.
Last night, we had a blues concert at the Ranger, by Danielle, Dana ans Indi. Meanwhile, we sailed twenty miles towards the Gorringe Ridge; to the mount of Ormonde.
This time it is harder for us to find the mountain summit. We find that all the available marine charts are wronhg and that none of the references we had were correct. At last, after modnight, we find the spot: at 32 meters deep in the most elevated area.
Next morning we awoke to a tranquil sea and sky. Soon after the first team of divers went down, those of us left onboard were visited by an ocean sunfish ( Mola mola ) measuring over one and a half meters long.
Juan Carlos Calvín, biologist and underwater photographer explained to us how the submarine scene has changed. It is more thriving than Gettysburg, although at first sight, the predominant species are the same; the laminaria species measure up to four meters.
Brown algaes ( Laminaria ochroleuca ) are still found at Ormonde, but the presence of furbellows ( Saccorhiza polyschides ) also becomes apparent. These two kelp species appear to be great trees towering over a blanket of brown and red algae, including Dtciopterys sp. and Zonaria tournefortii. Everywhere we find frequent schools of Almaco jack ( Seriola rivoliana ) and clouds of Mediterranean rainbow wrasse ( Coris julis ). Our attention is intensely focused on the way spotted torpedoes ( Torpedo marmorata ) huddle up together, snoozing on each other.
By the end of the day, we look at the images we have captured and we prepare to spend the night adrift. We know after tomorrow's last dive, we must say goodbye to the submarine mountains.