The Ranger has been docked for the past few weeks at Harbour Towne Marina, in Florida, and the crew, captained by Nuno Ramos, is toiling to bring the work to a close. Everything must be in perfect condition before the Atlantic crossing, headed to the European coast.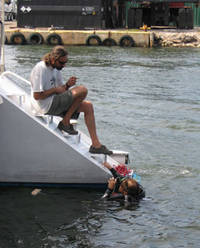 Amidst everything, Ricardo Aguilar, Director of Research and Projects for Oceana in Europe, has returned to the transoceanic expedition in order to lead the upcoming activities aboard the Ranger. Ricardo has already traveled with the Ranger between the Panama Canal and Cayos Cochinos (Honduras), along with Xavier Pastor, Director of Oceana in Europe.
For my own part this will be my first real experience on board a boat. Generally I conduct my work as Director of Communications for Oceana Europe from a chair at the center of the Oceana office in Madrid. It consists of disseminating information about our campaigns and research projects through various communications media, and of attending to the requests of journalists, with the greatest possible speed. Now I've come to Florida with Ricardo to relieve my colleague Maribel Lopez of the writing of this journal. While I write these lines it is raining torrentially outside.
Today, finally, the mizzen we've been waiting for arrived (for the non-initiated, the mizzen is the stern sail, which helps to stabilize the boat while sailing). Bibi, our Cambados sailor, comments, "my back is ruined from carrying sails, but it was worth it, I'm very happy, finally everything is in place." We have also received the new dingy, which is 4.5 meters and has a 30 horsepower engine. With the dingy, our dive team (videographer Mar Mas, photographer Houssine Kaddachi and ZOEA biologist Sole Esnaola) will be able to work much more comfortably. Also today, Sole slid into her neoprene suit to inspect the hull, clean off the algae and leave it clean for the beginning of a new journey. We are also installing a new life raft.
Every detail, no matter how small it seems, is incredibly important. Because we Oceana expedition crew have another adventure looming even before we cross the Atlantic: in a short time we will be sailing the Ranger straight through the Bermuda Triangle. From Florida we travel to the Bahamas, from there to the Sargasso Sea, and then we will head for Bermuda. But that story is for another day.