December 22, 2022
Happy Holidays from Oceana in Europe!
Dear friend of the Ocean,
As we enter the third year of a decade that began with a global pandemic, economic and environmental crises, and this year, a devastating war in Europe, one word prevails in my heart: Hope. Hope for a planet in peril, hope for a better future for the generations to come.
Hope is a guiding light that reminds us that only through our steadfastness will we leave the whitewater behind and enter a safe harbor. At Oceana in Europe, we remain steadfast on this journey towards a better future for this planet, where all will benefit from a healthy and abundant ocean.
This year alone we have made great gains in fighting illegal, unregulated, and unreported fishing; in exposing destructive fishing in some of Europe's most vulnerable marine environments, and making our voices heard by decision-makers, louder than ever, that we must put an end to overfishing and marine pollution. And, after two long years without an at-sea expedition, we were finally able to set sail and explore the treasures and the threats that lie under the waves in the Mediterranean Sea.
That is why I thank all of you for your ongoing support, dedication, and for not losing sight of what we all, collaboratively, will achieve in the years to come. Your hope for a better ocean is, and always will be, our guiding light.
Sending you my warmest thoughts for you and your loved ones this holiday season and wishing you a healthy and happy New Year!
Sincerely,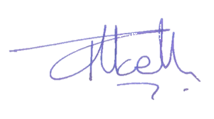 Pascale Moehrle,
Executive Director and Vice-President,
Oceana in Europe