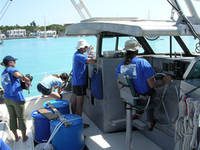 At then in the morning, everything is ready to set sails.
Nuño has gone to customs to pick up the documentation we got when the Oceana Ranger arrived in Saint George's Harbour in Bermuda, then on to gather supplies like flare guns to signal in case of emergency. We were required to leave a deposit upon entering to the country and submit a list of names of new crew members.
Once we passed the last buoy on the channel, Carlos gave new crew members instructions about safety measures onboard. He told us what each of us had to do in case of emergency, how to act, under whose orders we would be, and where to go in case of abandoning ship. Some "veterans" also participated in this talk, since it does never too redundant to know this type of information.
For this end, by the chart and communications table there si a diagram of the ship, showing the location of life rafts extintors, life savers, life jackets, drinking water, etc.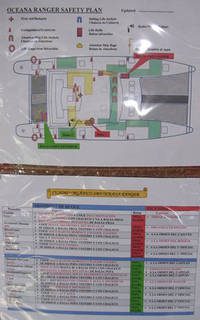 He also explained to us the procedure for night guard duty. He went over security measures to follow if a crew member leaves the bridge area of the ship to circulate on deck, how to signal and act in case someone falls over board, and the use of life jackets and harnesses to move about the ship safely, hooking them up to the life lines (these are cables situated along the deck area and they are used to move about during rough weather conditions, reducing the risk of being sent into the sea by a violent swing of the ship or by a wave hitting deck).
We have 1.800 miles ahead of us before we arrive in Azores. This is only the beginning.