This is the last day the catamaran Ranger remains anchored at Green Turtle Cay (Abaco Island in Bahamas). We arrived here on Sunday, April 24 and since then, many things happened to the Oceana crew. As we are leaving, we are satisfied, because we have filmed Nassau Groupers, parrotfish, sharks…although turtles have been elusive. First thing every morning, the first officer, Carlos, posts on a board the duties each crew member is assigned to and he gives us verbal instructions for preparation for departure.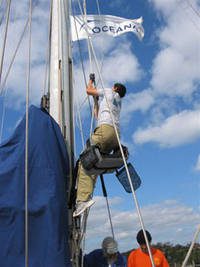 You can tell we are leaving. "Jose Carlos, climb on the main mast to change the top lamp, ask Bibi and David for help". During one of our guard shifts, Carlos explained to me that the top light beams signals the position of a ship during nocturnal navigation. Large merchant ships usually have two: one higher up on the stern of the ship and a lower one, on the bow area. The Ranger, like other sailboats of similar size, has only one. Equipped with the mandatory safety harness, our companion had to climb several times to the main mast, because the screws were resistant. Below, David and Bibi were watchful of his movements, following up the operation with binoculars and a walkie-talkie.
Inside the Ranger, captain Nuño consults tide charts to know the precise time of our departure, he gathers climate information, makes a thorough check of navigation charts and prepares the "alidade" instrument (that is a compass used to measure the time the ship has left to exit towards the Atlantic Ocean). "We will follow an East-Northwest course towards the Sargasso Sea". Meanwhile, Mar cleans her camera case once again. I lost count of the times she has done this…That is when we got the news that the new camera arrived at the Treasure Cay airport. We all let out a sigh of relief.
In the afternoon, Ricardo and I went ashore on one of the auxiliary boats, to visit a small town called New Plymouth, in the same island of Abaco, at about 10 minutes of navigation from Green Turtle Cay, to purchase last minute supplies: food and work equipment. The town's wood houses in pastel colors seem nice, each has a color: pink, yellow, blue…the streets are clean and the people are very friendly. It is unlikely that these residents suffer from stress.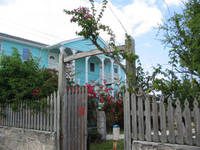 From Spanish "Baja Mar"
The name Bahamas comes from the first Spanish explorers who called it "Baja Mar" (Low Tide), alluding to its shallow waters of blue, green and turquoise color seen for kilometers and kilometers. Christopher Columbus was the first European seafarer to reach Bahamas, but centuries later, the English took them over. In 1647, a group of puritans settled here, in a city they called Eleuthera ("freedom" in Greek). Later, the archipelago also served as refuge to pirates, like the famous Henry Morgan, "knitted" by Her British Majesty. Millions of tourists visit the island every year, mostly from the US and Canada, and stay at luxury resorts, which elevates ten times the total population of Bahamas. Other tourists come for sports fishing, practiced in deeper waters where they catch marlins, and other species that live in shallower water. Distinctive elements of this archipelago include mangroves, sandy bottoms, phanerogams and coral reefs in the shallower waters. The archipelago is made of 2.000 islands, islets, and cays of particular beauty. The marine bottom has not been explored significantly; this is why Oceana is interested in documenting the area.
When we came back from New Plymouth, we met up with a surprise. A contagious rhythm of drums came from an area further down to where the Ranger was anchored. It was the Junkanoo celebration, a centuries old tradition, from the times of slavery. It is believed this word is rooted in French language: "L'inconnu" (the stranger), because of the colorful masks used by dancers to cover their faces. Another theory is that Junkanoo was a tribal chief who requested his owners to allow slaves to celebrate New Year's according to their traditions.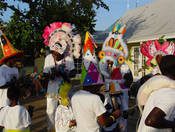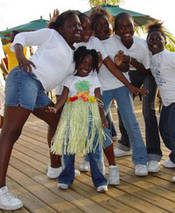 Today, Annie Compton went ashore, since she must attend to personal and professional commitments. The generous help we received from Annie and her husband, Steven Mac Allister (Oceana Board Member) has been vital for the fulfillment of this expedition. Throughout the weeks we have spent together, Annie has demonstrated great energy and optimism, which we thought were inexhaustible. I believe that as she left, she was satisfied with the work accomplished by Oceana, and is looking forwards to new and exciting projects.
"For the turtles, guys!" We will miss her.