It is funny how human behavior can resemble that of animals.
In my first day onboard the Ranger, I have the feeling that I have been to an anthill. Ever since Nuño and Carlos sounded the bugle at 7 this morning, the crew, like "working ants" began to take care of the tasks assigned to them previously.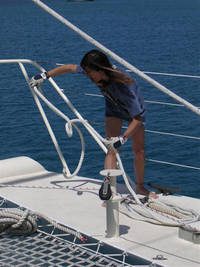 Indi and Mar went ashore to buy the supplies we need for the Atlantic crossing, not without taking a prior inventory of the provisions we already had onboard and taking notes on things they need to buy: bread, powder milk, rice, flour, canned goods, fruit, pasta, potatoes and a long etcetera. (In total, it took four dinghy trips fully loaded to bring the supplies to the ship)
Sole, Bibi and Jose went to the laundromat, with the crew's linens, some pants, t shirts, etc.
The rest of the crew remained on the Ranger, preparing the last touches before tomorrow's departure, en route to Azores. We refueled, loaded up drinking water, cleaned up the refrigerator and freezer and placed small belongings from each of us in the messroom (common area of the ship). These were some of our chores.
It is interesting to see the synchronization at work among sailors onboard. At the captain's order, each one knows perfectly where to go, how and when to act. For instance, the maneuver of hoisting anchors resembles a perfectly designed choreography which is accomplished without a hitch. Nuño was minding the rudder; Bibi and Carlos at the anchor wheel, making sure the chain goes in place, Alicia (the new sailor who just joined the expedition) David and Jose were on the lookout for the anchor position and informed Nuño of the location. At this time, Xavier joined us to help remove the mud that came stuck to the chain.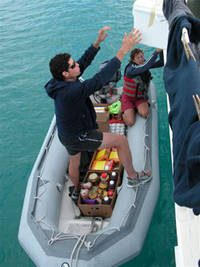 But I saw the true anthill onboard when the inflatable rubber rafts (dinghy) began to arrive loaded with provisions. Instantly, a line of people was formed, transporting boxes from starboard side to the kitchen. Each of us took one box, moved it to the messroom, placed the contents on the table and went back for another, not without taking back the empty box so the dinghy would take it back to shore and leave it there on its next trip (carton brings many problems with insects and humidity to the ship, and on shore it can be recycled). Once we had all provisions onboard, it was time to store them and this time, following the cook's orders (Indi), the crew placed things in place, as if it was a game of Tetris.
Right now, the "Ranger anthill" is ready to prepare dinner and in a couple of hours, the little ants will go to sleep. Tomorrow, we will have a wake up call again at 7:00, to eat breakfast and set sails for Azores.